This website is under reconstruction.
- Home -
"Do you like the sound of silence"?
Experience both high grazing grounds and finn-settlement culture and wilderness during the trips.
To preserve 'the calm' and silence, we do small groups of 4-6 persons + guide on our welltrained and surefooted mountainhorses.
We follow rocky paths & ancient moosetrails, now and then faired by the lonely wolf or perhaps the odd brown bear, adds a little extra spice to the beautiful backcountry...
"I wanna saddle my horse in darkness. ride out in the morging dew, breathe some air never been breathed...
wanna put a hole in my tv and let the silence ring thru,
wanna count a million stars and think of you."
Mike Beck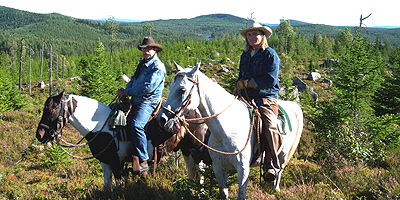 "For those who like to ride fast; we have fast horses.
For those who like to ride slow; we have slow horses.
And for those who don't like to ride at all; we even have horses that don't like to be ridden".
Peter Vester